Glomerulonephritis Treatment-Surgery in Delhi India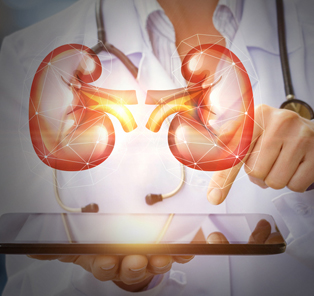 The inflammation or damage of the part of kidneys involved in filtering waste and fluids can result in Glomerulonephritis. Glomeruli are tiny filters in the kidneys which help filter the blood of any waste and impurities and this condition is associated with impairment of the functioning of these filters. Any damage to glomeruli leads to loss of blood and proteins in the urine which is not desirable. The condition could be caused by a number of factors but, by and large, the exact causes remain unknown.
If the condition develops rather quickly it is termed, rapidly progressive Glomerulonephritis, in which the functioning of kidney could be impaired within weeks to months. A history of cancer, strep infections, cardiac infections, abscesses and viruses along with lymphatic system disorders can also contribute to the risk of developing this condition. Some of the symptoms which could signal the presence of this condition include blood in the urine resulting in discoloration of urine, foamy urine caused by excess quantities of protein in the urine, swelling of eyes, hands, feet or face, nausea and vomiting, headaches, difficulty in breathing and high blood pressure.
Usually, urinalysis and urine tests along with several imaging techniques are employed for diagnosing glomerulonephritis. Experts suggest that kidney biopsy is one of the most important ways of confirming the presence of this condition. Prescribing medication for bringing blood pressure under control and suggesting critical diet changes can be some of the most effective easy of treating the condition. However, everything depends on the assessment of a kidney specialist who is qualified to decide the course of treatment.
In some cases, it might be required to undertake temporary dialysis treatment in order to clean the blood of any impurities. This might be continued until the kidneys recover sufficiently to carry out their function in an efficient manner. It is important to understand that the plan of treatment is to be decided keeping in mind the type of glomerulonephritis one is suffering from. Largely, these types can be classified into primary and secondary glomerulonephritis.
If one has primary Glomerulonephritis, specifically kidneys are affected by the disease causing this condition. On the other hand, if secondary type of this condition is diagnosed, it means that kidneys are only a part of the organs affected by the causal disease. It has also been found that an erratic functioning of the body's immune system can also lead to this condition. This type of condition has to be treated differently to achieve the desired results. It is important to know that only a qualified kidney specialist can recommend the proper form of treatment for a specific type of glomerulonephritis.